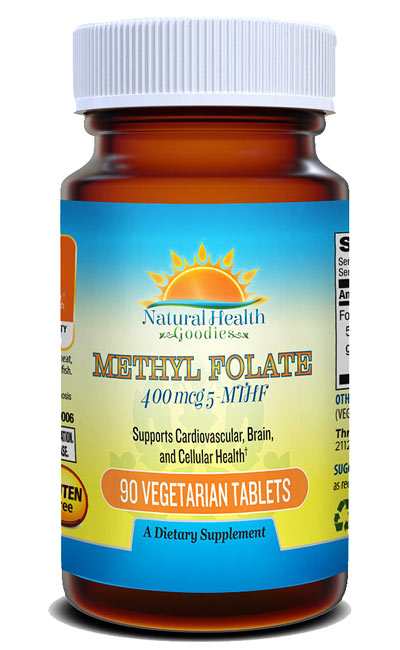 Vitamin B9, or Folate plays a vital role in our development and growth at every stage of life. Methylfolate is required to support cardiovascular and cognitive health, as well as the production of new cells and maintain healthy homocysteine levels.
Our bodies cannot make folate on its own and depends on supplementation or diet to acquire it. Due to this and many other factors many of us do not get an adequate amount.
Insufficient absorption as we age, daily stress, poor detoxification and even metabolic mutations all can prevent our body from getting the folic acid it needs.
Choose Optimized L Methylfolate Over Folic Acid
Using our optimized 5-MTHF methylfolate from the start makes sense. Folate is up to seven times more bioavailable than folic acid.
Why choose Natural Health Goodies Methyl Folate?
As the most bioactive form of folic acid 5-MTHF has been shown to dramatically raise folate levels in comparison to your standard folic acid supplement. This is important for those with a MTHFR gene mutation which prevents absorption. You may have never heard about this mutation but nearly 60% of us have issues converting folic acid.
No one likes swallowing huge pills chock full of fillers, our tiny folate tablets give you the folate needed in a smaller than pea sized form (really these are so tiny and cute – the same size as our B12 Lozenges!) Furthermore, why take more folic acid than you need when much of it goes to waste? Our patented Quatrefolic L-methylfolate uses high quality active folate so your body doesn't need to go through the complex process of conversion – it simply works as it should.
Men, women and children can benefit from adequate amounts of methyl folate. It ensures that tissues and cells grow and function properly. Everything from vibrant hair to a strong heart and brain. Taking folate while pregnant is also advised as folate is vital for a baby's brain and spine development. Supplementing with folate prior to conceiving may reduce the risk of neural tube defects by as much as 70%!
Everyone can benefit from our methyl folate. Each vegetarian tablet is Gluten Free, Soy Free and contains no wheat, milk, eggs, peanuts, tree nuts, shellfish or fish. Also no artificial colors, flavors, preservatives or magnesium stearate. We make sure our folate is strictly tested to ensure the optimal amount of this vitamin is in every bottle.
Trying to have a baby? Folate is very important for Mom and Dad
Folate is an important fertility vitamin for both men and women. One study showed that men who consume over 700 mcg a day of folate lower their risk of sperm abnormalities by 20 to 30 percent! Strong "little guys" lead to healthier babies.
Here is a fun little video we just made giving an overview of some benefits of folate in pregnancy. Please share. It was so fun to make! 🙂
Learn more about Natural Health Goodies Methyl Folate on Amazon.

Website Special: Save 15% with Coupon Code: NHSAVE15
Questions, Comments or Feedback? Contact Us